The domestic parks are where 98% of my Disney Parks friends personally call "home."
I
call Walt Disney World home. And we
love
our homes. But let's face it: Tokyo Disney Resort and Shanghai Disney Resort have
the best merchandise
. And us American Disney fans can get v. jealous sometimes.
Take for example the Duffy the Disney Bear franchise. Duffy made his debut in Orlando in 2002, but found a home at the Tokyo Disney Resort shortly thereafter. After being marketed rather aggressively at the Tokyo Disney Sea park, the Tokyo audiences went crazy for him. Now, you can find him and the rest of the friends in his franchise all over the merchandise scene at TDR. They're so popular that there are entire stores dedicated to the friends of Duffy the Disney Bear in both Shanghai and Tokyo.
There in Tokyo, we find the elusive ShellieMay backpack that every single influencer in the past year has gotten their hands on. We also find tons more amazing merchandise that we couldn't even
dream
of here in the states. I don't know why the merchandise is so much better in the international parks-- it just is.
Here, I'll let you take a look: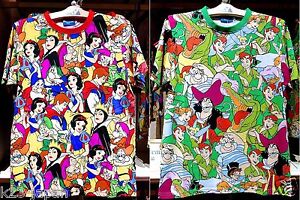 Whether you crave the Mickey burger bag or you're
all over
those character print tees (get it?), I think it's safe to say we've all wanted something from the overseas parks at one point or another.
Fear not. You don't need a passport and thousands of dollars to get your hands on that amazing popcorn bucket from Shanghai that you so desperately need. In fact, I'm going to teach you how to get exactly what you want from the comfort of your very own living room.
There are a few ways to get your hands on the international merchandise you want. Personally, I bought my ShellieMay headband and my ShellieMay bag both
on Ebay
.
I bought the ears first from a seller named
richiejp
. I can't recommend him enough. I paid $29.99 for the ears-- it was the cheapest I could find for the ears, with the most expensive still only being around $35. He had 100% positive reviews, so I went for it. I purchased them on Saturday, July 21. On Saturday, July 28-- just a week after I had purchased them-- they were in my hand (Ebay estimated that they'd arrive sometime mid-August). Richiejp is from Tokyo, so he sent it through a Tokyo shipping system that was able to get my package to customs in two days. It spent three days at the NYC ISC, then went out for delivery that Saturday.
Because this purchase went directly through NYC customs, I had to sign for them in person when USPS came to drop them off at my door.
Even though they came in a flat package most USPS sellers will leave in a mailbox, because this package had to go through customs, I had to personally accept it from my mail carrier.
They were
perfect
. They came in their little plastic Tokyo DisneySea bag, with their tags still attached to them for authenticity. They were in mint condition, with no matting from the flat envelope they were handled and distributed in. I could not have been more thrilled!
I bought my ShellieMay bag, also from Ebay, from a seller named
hulezhen2011
. Once again, hulezhen had 99.4% positive reviews, so I purchased from them. I had a question about my order, but they responded quickly and called me "friend" which made me feel nice. The bag shipped the day afterwards (July 31), and then it stayed in what I call "Shenzhen Hell" for a while. hulezhen2011 is from China, so they shipped through EMS, which is one of the slower shipping services. On Wednesday, August 1, the item arrived at Shenzhen, and the item didn't update until August 7, when it arrived at a distribution center at CT. It went through a few more regional USPS stops, and on August 9, I was surprised to check my shipping updates to see that it had been delivered. I found it shoved awkwardly into my mailbox, where it barely fit.
This time, the package did not go through customs, and I did not have to sign for it.
Once again, I was happy to find that the bag was authentic and NWT. My only complaint this time around was that she arrived a little matted from her journey. That's okay, though! With a little bit of ruffling, she was as soft as ever.
Of course, both times I shopped through Ebay, I knew I was taking some risks because I didn't personally know the sellers. Here are some tips to keep in mind when you shop on Ebay:
Know the difference between what an authentic product will look like vs. what a knockoff will look like. Spotting the tags is the easiest way to do this. Find out what an authentic merchandise tag will look like, and compare photos whenever you see something you want on Ebay. If the color is off, or the seams look weird, or the tags are oddly shaped, you probably aren't looking at authentic merchandise.
Research your seller a little bit first. Does your seller have mostly negative or positive reviews? Their reviews won't lie. Have people been reporting that the shirt came in quickly, but there was a size issue or the wrong character was went to them? Or maybe they got the right product, but it took two months to get to their front door?
If the price is too good to be true, it's probably fake. Remember what I said about knowing the difference between authentic and knockoff products? If a headband that normally sells for $30 is being sold for $8, it's not a real headband.
If you buy through Ebay, always leave seller feedback. It's important to let other people know how happy (or unhappy) you are with your purchase. That way, other prospective buyers know what they're getting into!
Keep a close eye on your shipping tracker. If your package has to go through customs, you'll want to make sure there's someone at home the day your package goes out for delivery. You may have to sign for it, and if you're unavailable, they might leave a note on your door saying that they were unable to leave the package unattended.
Don't want to purchase through Ebay? You can also buy through a
personal shopper
.
Personal shopper fees can be very expensive, but with personal shoppers, you know that you'll always be getting a) authentic merchandise and b) top quality customer service. The people I know who've gone through personal shoppers have always had nothing but amazing experiences with the sellers they've had. Here are two of my favorites to help you out...
happyshopping_tokyo
: happyshopping_tokyo is an instagram user who always posts photos of the latest and greatest merchandise from the Tokyo Disneyland Resort Parks. Shipping is $10 through her, and you'll get a tracking number. She always has a smile on her face and has some very loyal followers who love to buy from her! Follow her
here
. Be warned-- you will
seriously
want to buy the merchandise she posts!
USShoppingSOS, inc.
: USShoppingSOS is a very acclaimed overseas Disney park personal shopping service. They've been around for a few years now and provide free shipping to the United States. They're also one of the more expensive shopping services... however, they have an unmatched inventory for you to choose from. If you need something specific
fast
, you're sure to find the piece you're looking for on their website. Give them a click
here
.
Do you have a piece of merchandise from the overseas park that you desperately need? Comment it below! Let's work together and see if we can get it in your hands faster than you can say "Duffy the Disney Bear."
-
Kaitlyn