Ever year, my family makes the thousand mile journey from New Jersey to Orlando, FL. Walt Disney World is always changing, and we always have new things to do and try on our annual visits. However, some things never change. In the past four years, I've found myself buying the same
four souvenirs
every single trip. It's a habit I've gotten into, and it always gives me something to look forward to and plan around!
I buy these four things every year because they're the perfect combination of things I need: they're
functional
enough to carry with me every day, but
nostalgic
enough to remind me of all the fun I had on my most recent trip "around the World."
A little piece of me is always left in Disney World... but carrying around these little pieces of Disney World makes the distance a little shorter!
#4- My Favorite Body Scrub
I'm a sugar scrub fiend. I love the way it makes my skin feel after I step out of the shower! My favorite scrub comes from one of my favorite stores in Walt Disney World, Basin. I like the Basin White at the Grand Floridian, but their flagship store at Disney Springs is cute, too! These high quality scrubs will set you back at around $35 a jar, but they're massive and last me until I can get back to WDW again. Basin always produces high quality products, and these scrubs are no exception. My skin always feels amazing whenever I use Basin's blend of salt, shea butter, and luxury oils. I purchased one as a gift for myself during my DCP, and found myself buying one right before I left Orlando in January 2017... then one again on our August 2017 vacation!
My favorite scent is Peppermint! Not only does it remind me of Christmas time, but it's so revitalizing.
#3- A New Disney Vera Bradley Zip ID Case/Lanyard
Admittedly, I was never the biggest fan of the Vera Bradley for Disney Parks collection. In fact, I've never been a big fan of Vera Bradley in the first place. On my August 2015 trip, I bought a wallet from there that I didn't really love. However, on my August 2017 trip, I fell head over heels in love with this Zip ID Case and Lanyard. Look at the little Mickey silhouette carabiner! With my student discount, I paid about $38 for both pieces of the set. I use this lanyard every. day. of my life. It's so cute, and it holds everything I need before I run to class!
Because Vera Bradley isn't the best quality, it has started to show quite a bit of wear-and-tear in the year I've used it. But I don't mind. I'll be back year after year to buy a new one! You can only get the Vera Bradley for Disney Parks collection at the Vera store in Disney Springs, so if you're going to DS on your next trip, be sure to budget enough time to visit the store. You won't regret it-- every employee there is the sweetest.
#2- A New Keychain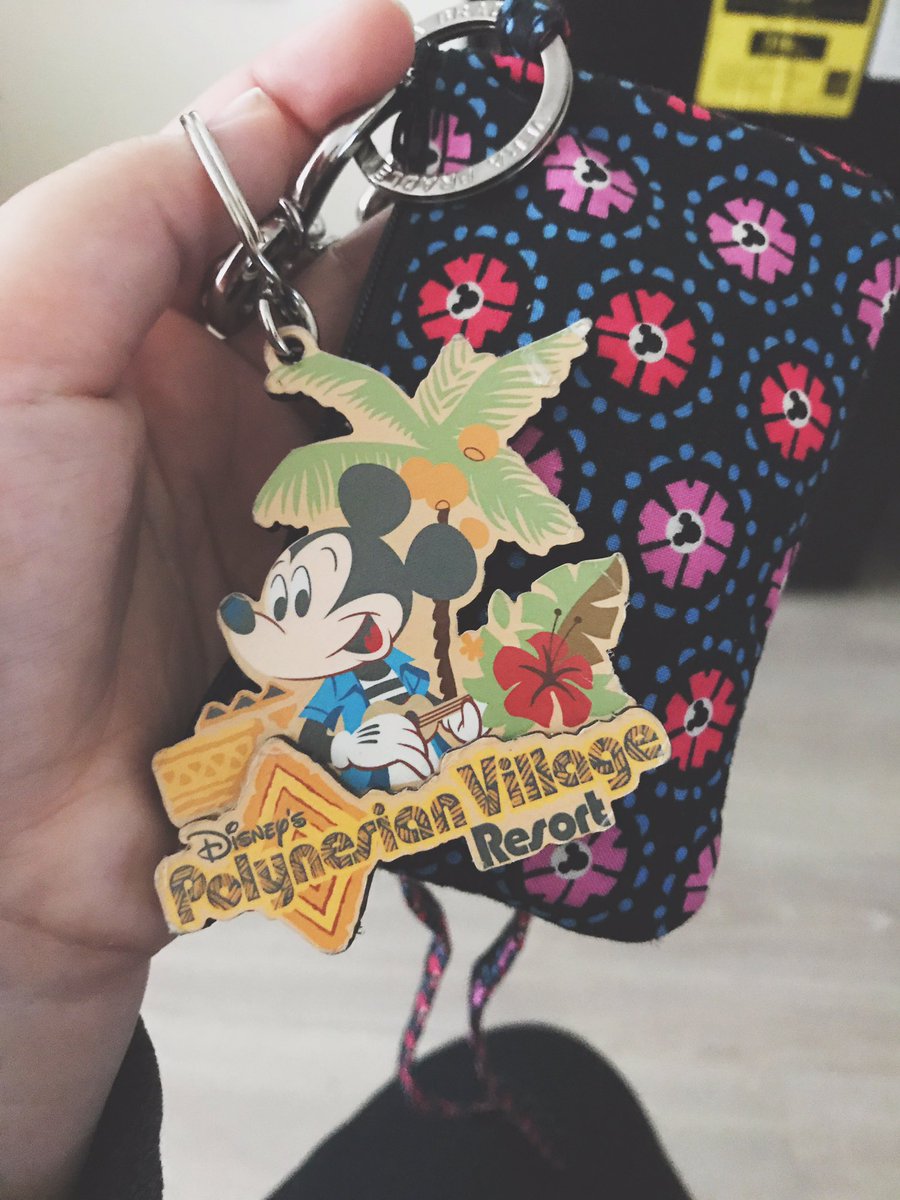 Keychains started off as something I would buy every year, but not intentionally. In 2010, I bought a Mickey Mouse one (that said 2010). In 2014, I purchased an Ariel one to remind me of my favorite princess. In 2015, I purchased a Tinker Bell one so that I'd always have my favorite pixie with me. Throughout my college program, I bought, like, forty. And finally, on my latest vacation trip, I bought a Polynesian Village Resort one because that was the trip where the Poly became my family's "home" resort, and I always wanted to carry a reminder of my home with me everywhere I went.
Keychains are awesome because they're inexpensive, you can find them almost anywhere at Walt Disney World, and you can find almost anything on them. If you made a special memory on your trip, you can find a keychain to commemorate it. That's why keychains have become a staple in my souvenir budget-- I can carry my favorite memory from every trip in my pocket wherever I go!
#1- Something Unique
Disney World has a lot of hidden stalls, stores, and kiosks all around the park that sell things you won't find anywhere else in Disney World. Remember last week, in my post about all the apps you should have on your phone before you go to Disney World, when I talked about buying a souvenir you liked as soon as you saw it? Well, every year, I find one of the smaller stores and do exactly that. Last year, I bought a
piñata
. A unicorn
piñata, to be exact.
She's really tiny, and she sits on top of my dorm desk! I found her at one of the stalls you'll find in the Mexico pavilion of the World Showcase. She was handmade in Mexico, and she's only sold on property in one location. If you tried to look for her on the Shop Disney Parks app, you wouldn't even find her!
Buying something unique or even strange every trip is something I highly recommend doing. In a Disney World full of mouse ears and mouse t-shirts, find the unicorn souvenir that nobody else has and make that purchase its own special memory. Here she is, thriving on my Manhattan dorm desk.
Do you have a traditional purchase you like to make on your annual vacation? How about a souvenir you're dying to buy on your next trip? Let me know in the comments below!