First it was Starbucks, then it was McDonalds, and now it's Disney's turn:
the Walt Disney Co. is committed to eliminating plastic straws and stirrers at their theme parks and on their cruise ships.
Last year alone,
Americans used 360 million straws a day, making them the 11th most found trash in the ocean
. Now companies are taking a stand against plastic straws, with initiatives to ban the single-use plastic spanning around the globe. Historically, the Walt Disney Co. has exhibited a passion for conservation and care keeping of our planet. Walt was a renowned animal activist and conservationist, which paved the way for Disney's Animal Kingdom. DAK is accredited by the Association of Zoos and Aquariums and the World Association of Zoos and Aquariums-- which means that the zoological theme park at Walt Disney World Resort has exceeded standards in education, conservation, and research. This makes Disney's
announcement to completely eliminate plastic straws and stirrers by 2019
supplementary to their long-standing history with conservation efforts.
Disney Parks Blog wrote
that the parks have also pledged to reduce the amount of plastic shopping bags at their parks and on their cruise lines, offering reusable shopping bags for "a nominal fee" instead, and will also be transitioning to refillable in-room amenities rather than single-use bottles.
You may be sitting there thinking, "
Awesome! Disney is committed to saving the turtles... but, what does this mean for me as a Parks guest?
" To which I say, don't worry. Let me explain what you can expect in your future Walt Disney World Resort vacation (and what I suggest you do to help accommodate these changes!)
So first things first:
no more plastic straws or coffee stirrers.
Disney has pledged to eliminate them by 2019. Plastic straws, stirrers, and cup lids have
always
been banned at Disney's Animal Kingdom for the safety of the animals that call the park home, where paper straws were the norm. Of course, Disney probably won't be using paper straws everywhere as a permanent solution. Paper straws are a hassle for a lot of people, as they get soggy if they're left in a drink too long. They're also not an ideal solution for disabled people who rely on plastic straws to drink independently. Therefore, Disney will probably be spending some time reviewing all of the alternative straw options they have and developing the perfect solution for their parks. If I had to take a guess, I'd say it's safe to assume that at some point, paper straws will be incorporated throughout the park until they figure out a permanent solution, with plastic straws still available for guests who need them.
Consider
bringing reusable straws with you
when you're vacationing to Disney. Amazon has a few options for you! You have these
stainless steel ones
, some nice
silicone ones
, and some
reusable plastic ones
. I personally really enjoy the stainless steel ones. Not only do they bend like plastic straws, but they come with little brushes so you can easily clean them at the end of the day!
Disney is also
reducing the use of plastic bags in their parks
. So when you buy merch in the parks, you'll have the option of purchasing a reusable shopping bag. This is a policy that the Disney Store implemented back in April in honor of earth day. If you don't want to purchase a reusable bag at the counter, try
carrying reusable bags with you
. Any type of reusable bag will do, but if you go to Target, Wal-Mart, or even your local dollar store, you're sure to find really cute plastic grocery totes with Disney characters on them.
Finally, Disney has pledged to
make the switch from single-use toiletries in their resort guest rooms to refillable toiletries
. If you've ever stayed at a Walt Disney World Resort Hotel, you may be familiar with this sight: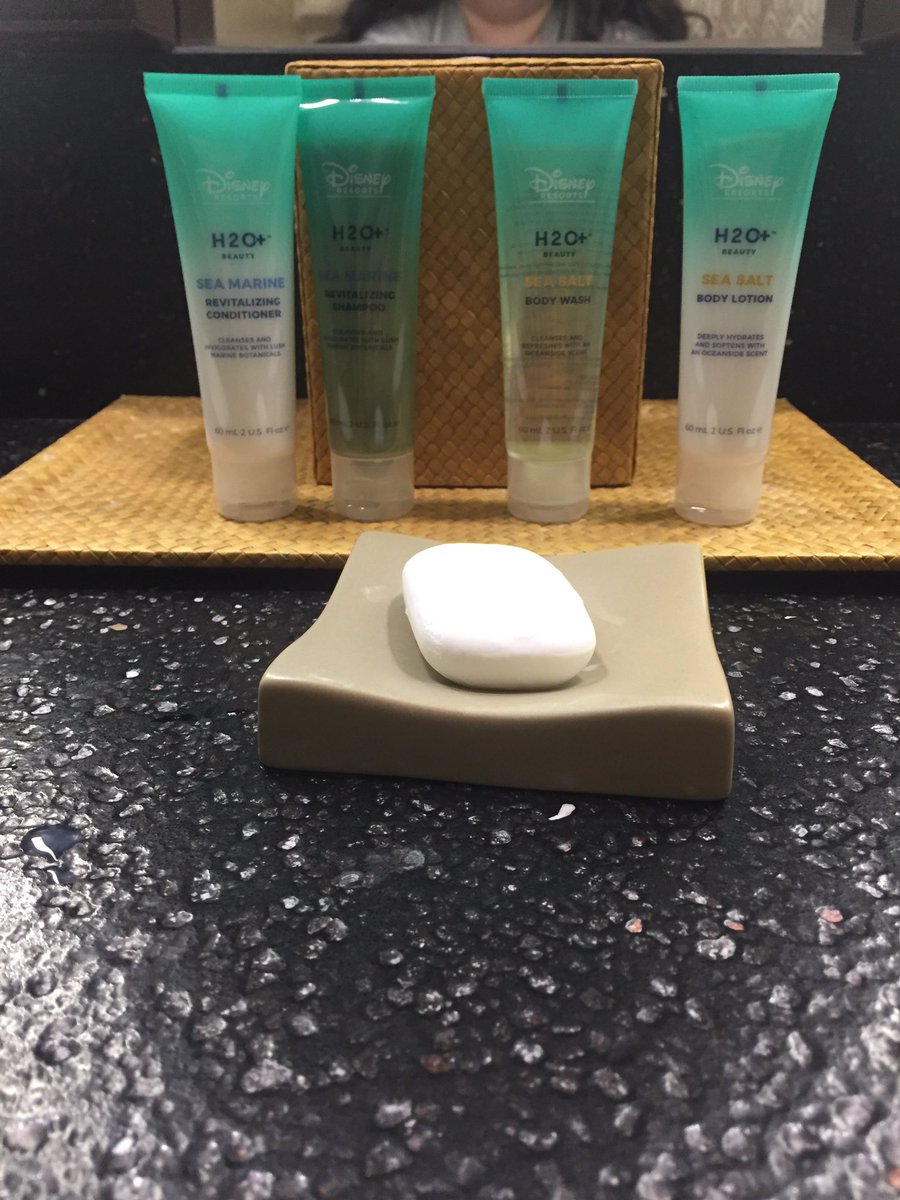 So many guests throughout the year have loved collecting these little bottles of shampoo, conditioner, lotion, and body wash from their resort bathrooms! H20+ is Disney's signature line of in-room toiletries and spa products. They always have the nicest scents, and their lotion leaves my skin feeling so soft! It's no surprise that so many guests are upset that they will no longer be able to collect these tiny mementos and bring them home at the end of the day. In the continued effort to cut down on single-use plastic, Disney will be opting to replace single-use bottles with refillable wall dispensers of product in their resort room showers. Cool! Unlimited shampoo, conditioner, body wash, and lotion!
I recognize that some people may not welcome this change because it means you won't be able to take the single-use bottles home anymore. Many guests enjoyed taking home the H20+ products as a reminder of their time at Walt Disney World. If you desperately need to take home a bottle of your favorite H20+ product, you can find their full line for sale at your resort hotel merchandise location 😊
-Kaitlyn