Spending five months living and working at Walt Disney World changed my life. During my Disney College Program, I was presented with the opportunity to try new things and experience events that I never would have been able to do otherwise. One of these amazing events I got to experience was the Epcot Food & Wine Festival. Food & Wine was the best part of my DCP, and I'll tell you why.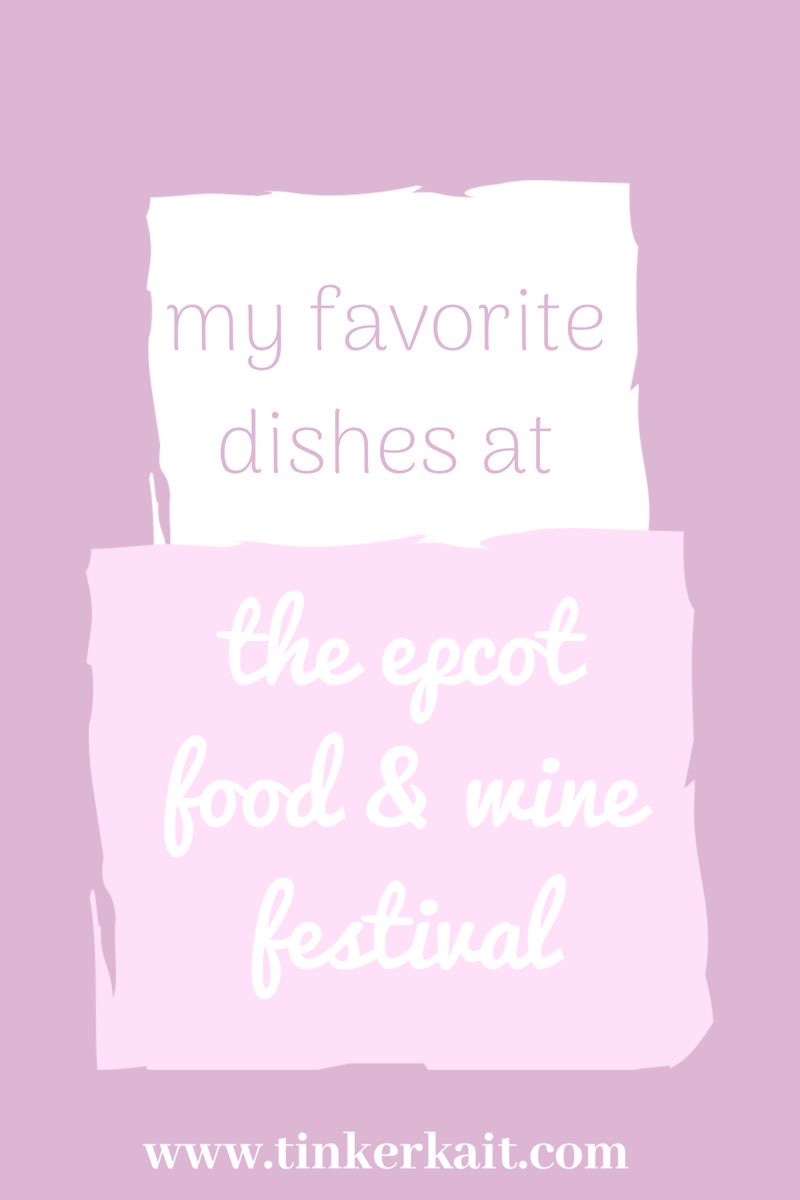 The Epcot International Food & Wine Festival is a special park event held every fall, typically from mid-August to early-November. During the Food & Wine, Epcot guests are invited to participate in special seminars and classes, experience special meals, and above all, sample foods from all around the globe at festival-exclusive booths in the World Showcase.
The cultural celebration quickly became something I looked forward to experiencing every weekend. You just can't get bored when the Festival is around. There's so much to do and see, and so many new dishes to try at cheap prices. There were always new things to try and new food to eat, which kept me coming back week after week until the festival wrapped up.
Two weeks ago, Disney released the full menu for this year's Food & Wine booth offerings. You can view them
here
, on Disney Food Blog. And until we get to see photos and reviews of this year's offerings, I figured I'd take a stroll down memory lane and reminisce on my favorite dishes from the festival...
First of all: my favorite Food & Wine booth dish of all time can be found at the China booth.
This is the Beijing Roasted Duck Bao Bun with Hoisin Sauce. There's just nothing like this. Tender duck is roasted and doused in a sweet and spicy Hoisin sauce, then served on a warm, soft bao bun alongside crispy noodles and fresh vegetables. Out of everything I ate at the F&W festival, I think I ate this one the most. I remember going back here all the time for this dish, and I'm so glad it's back for yet another year. It's a serious Food & Wine hall of fame-er.
Coming in at a close second are two dishes from the Germany pavilion. I loved the Schinkennudeln and Apple Strudel. Shinkennudeln is a traditional German dish made with pasta, cheese, ham, and onions. It's a bit like mac and cheese, only richer. On a shady note-- if you're in between the mac and cheese from the Farm Fresh Booth and this nudel gratin dish, get this one. As for the Apple Strudel, it's a warm and delicious slice of their signature Biergarten dessert served with a to-die-for vanilla sauce and caramel drizzle.
One of the best deals you'll find is in France, where gourmet dishes are served at a terrific portion for an economical price. I really enjoyed the Boeuf Bourguignon.
Tender, fall-apart-on-your-fork braised short ribs are served over a smashed potato and covered in a cabernet sauce in this dish, a sample version of a signature Chefs de France entree. This year, in place of the Boeuf Bourguignon, you'll find the Carbonade de Boeuf. One interesting quirk at the France booth is that each year, a different creme brulee is debuted. In 2016, I tried a chocolate creme brulee that was really delicious. But then again, I think all creme brulee is delicious, so I might be biased. 💁
Speaking of chocolate, I've had two chocolate dishes at the Food & Wine that I think are real stand-outs. One was the Belgian Waffle with Warm Chocolate Ganache and Whipped Cream from the Belgium booth, and the other was the Sweet Dark Chocolate Raspberry Tart with Whipped Cream from the Chocolate Studio booth.
Both of these desserts were so decadent and delicious, I'm glad they're making a comeback for the 2018 festival! The waffle was warm and fluffy, and I literally dream of that chocolate tart. A raspberry compote mousse is served in a crunchy chocolate tart shell, and covered in a rich chocolate ganache.
These are just a few of the amazing dishes I sampled around Epcot's World Showcase during the Food & Wine Festival. Honorable mentions go out to the Lamb Chop With Mint Pesto and Potato Crunchies (Australia) and the Taco de Camaron (Mexico).
I'd love to hear about what you guys enjoyed most during your past trips to the Food & Wine Festival, and what you guys are looking forward to most this year! Let me know in the comments below.
-Kaitlyn